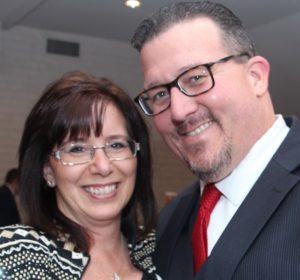 Attorney Patrick B. McEuen is a life-long resident of Northwest Indiana. He grew up in Hobart and graduated with honors from Hobart High School where he played football for the Brickies. He was the 1985-86 class 4A recipient of the Phil N. Eskew Mental Attitude Award at the State football finals in Indianapolis.
Patrick was awarded an Eli Lilly Fellowship to attend Wabash College in Crawfordsville, Indiana.  At Wabash, Patrick was a member of the Sigma Chi fraternity and also played on the football team.  Patrick took the opportunity to study abroad for a semester at the Universite des Etats-Unis in Aix en Provence, France as a student of  Wabash College. During his semester abroad, he played American football with the Argonauts and studied the French language, French literature, and European history.
Patrick graduated with honors from Wabash in 1990, receiving a B.A. in English Literature. In 1993 he received his Juris Doctorate at Indiana University's School of Law in Bloomington.  While in law school, Patrick was a member of the moot court team which participated in a mock appeal competition in Chicago, Illinois.
Patrick is the 16th Past President (2001) of the Lake County Bar Association. He has also served the Lake County Bar Association as the Secretary (1998), Vice-President (1999), President-Elect (2000) and he represented Munster, Indiana on the LCBA Board of Directors from 1995-2004.
Patrick is a member of the Indiana State Bar Association, Lake County Bar Association, Porter County Inns of Court, Porter County Bar Association,  and one of the founding members of the Calumet American Inns of Court in Lake County, Indiana.  Patrick is a Past Chair of the Litigation Section for the Indiana State Bar Association.  He is a past sustaining member of the Indiana Trial Lawyers Association and the American Bar Associations.  He has also served as a Judge Pro Tem in both Lake and Porter County courts.
Patrick is former member of the Indiana Dunes Tourism board.
Patrick began his law practice at Singleton, Crist, Austgen & Sears in Munster, Indiana in 1993. He left their firm after eleven years with the last four years spent as a partner. He joined Millbranth & Bush in Valparaiso, Indiana as a partner in 2004.  In 2012 he decided he needed a change of scenery and began practicing Of Counsel for Rhame & Elwood in Portage, Indiana.
While practicing law in Portage an opportunity presented itself to open his own firm so on March 1, 2014, Patrick and his wife, Sandy, opened McEuen Law Office. While his practice has become more general in nature, Patrick is a dedicated civil trial attorney in all matters for his clients.
Business Manager Sandy McEuen was born in Chicago and moved to Hobart, Indiana while in elementary school. She attended Hobart High school where she was active as the boys track manager, a color guard member, in choir, acting and singing in various theater and musical productions in school and in the local community.  Sandy also graduated with her husband, Patrick.  She had chosen an artistic path as her original career choice but when the cards did not line up, she instead made the best decision to serve her country in the United States Air Force.  Sandy is the only female veteran in her family's history.  Her family members have served honorably in all armed forces branches except for the Coast Guard.
Sandy became a jet engine mechanic for F-16 fighter jets while stationed in Germany and EC/RC-135's in Nebraska, both in shop and on the flight line. In Europe, she worked side by side with civilian reps for GE, who manufactured the F-110 engine in F-16's, and helped to analyze crash sites for engine malfunctions.  She traveled throughout Germany and Europe with this team.   She also gained valuable skills in the management of equipment and personnel while in the military.  Sandy served honorably for four years of active duty and four years in the reserves in four states and in Europe before leaving the Air Force. She began her civilian life in the state of North Carolina and later moved to Maryland where she diversified her business experience by working in various business industries: real estate, insurance, banking and finance, retail, manufacturing, construction, electrical utilities, legal, and market research. She has dedicated a fair amount of time in business to customer service and it is evidenced by not only her ability to make clients feel welcome in the office but by the time she takes to give clients insight into what they might expect whether they are heading to a court hearing, mediation or a settlement conference.
Sandy has done independent coursework in banking, finance, and behavioral sciences. She is a Notary Public for the State of Indiana, a member of the Indiana State Bar Association and Lake County Bar Associations as a legal administrator.   She remains affiliated with Honor Flight Chicago as a DC Guardian for WWII veterans.  Sandy has served as a guardian for four WWII veterans when they visited their memorial in Washington, D.C. including two very special veterans, her great-uncle Bud and Joe Popp, the father of one of her Northwest Indiana friends.  These experiences were filled with patriotism, love of country, and selfless service to our Greatest Generation.
While she wandered from the original creative vision she had for her life, Sandy has instead used her decades of business and military experience to create a relaxed management style at McEuen Law Office for their clients.
Patrick and his wife, Sandy, reside in Portage, Indiana. They have five children; four sons and a daughter and one very spoiled dog.
They have a set of twins who graduated in 2019 from Portage High School.  Their son, Dave, is a computer wizard and WWII buff, who was involved in JRROTC in high school and joined the US Navy but was medically separated in boot camp.  He now  works in home construction on the Eastern Shore of Maryland.   Their daughter, Diana, was active in the Portage Choir and in Thespians. She was the Co-President of the PHS Thespians and Vice-President of the Advanced Mixed Choir.  She prefers backstage work in theatre productions and has been a costume designer,  assistant director and director of high school productions.
Diana is a senior at Manchester University, where she has a double major in Environmental Studies and Biology.   She quickly became involved being involved in the Manchester's Theatre Society,  Artist's Anonymous and has already been the assistant director for Down The Street.  She works for the Cordier Auditorium on campus and was on the camera crew of The Invention of Morel,  a rock opera by Stewart Copeland, the drummer for The Police.  She even met him and got a picture for her mom.  Diana has completed two internships for the Indiana Dunes National Park; testing water quality in the park and a study on mussel relocation.  This year she has an internship at Manchester University with a study on aquatic plants.
Three of their sons graduated from Chesterton High School.  Their oldest son, Colin,  became a world traveler right away in the fall of 2014.   He spent a year and a half living and working in New Zealand and Australia, from there he moved to Seattle, Washington where he worked at Red Cedar & Sage located in the famous Pike Place Fish Market.   Colin came back to the Region to work at Beatnik in West Town and Beatnik on the River in Chicago as an assistant general manager.  Colin and his girlfriend, Katelyn, now live in Arizona where she has completed her master's degree.  Colin is now the Fleet Manager for Larry H. Miller dealership and they are enjoying the sunshine with their dog, Huxley.
Caleb graduated from high school in 2016 and from Indiana University in 2020, studying Outdoor Recreation, Parks, & Human Ecology.  He is now working in Nashville, Tennessee, and contemplating where to explore next as far as career opportunities and his own personal goals.
Their youngest son, Kyle, graduated in 2020 from Chesterton where he played on and was a captain of the varsity soccer team.  He experienced his team winning the 3A State Championship after an undefeated season his junior year.  Kyle spent a year at I.U. but determined he was meant for something else.   He also lives and works in the Nashville, TN area as an architectural sheet metal team leader.
Together, Patrick and Sandy support Portage & Hobart Football, Chesterton Boys Soccer team, Portage High School Thespians, the Portage Music Department, the Portage Township Food Pantry, Wounded Warrior Project, Honor Flight Chicago, the USO, and Wreaths Across America. They are both former board members of the Portage Township Education Foundation, and current members of the Portage Chamber of Commerce.